A Look Inside Onduo's Implementation and Onboarding Experience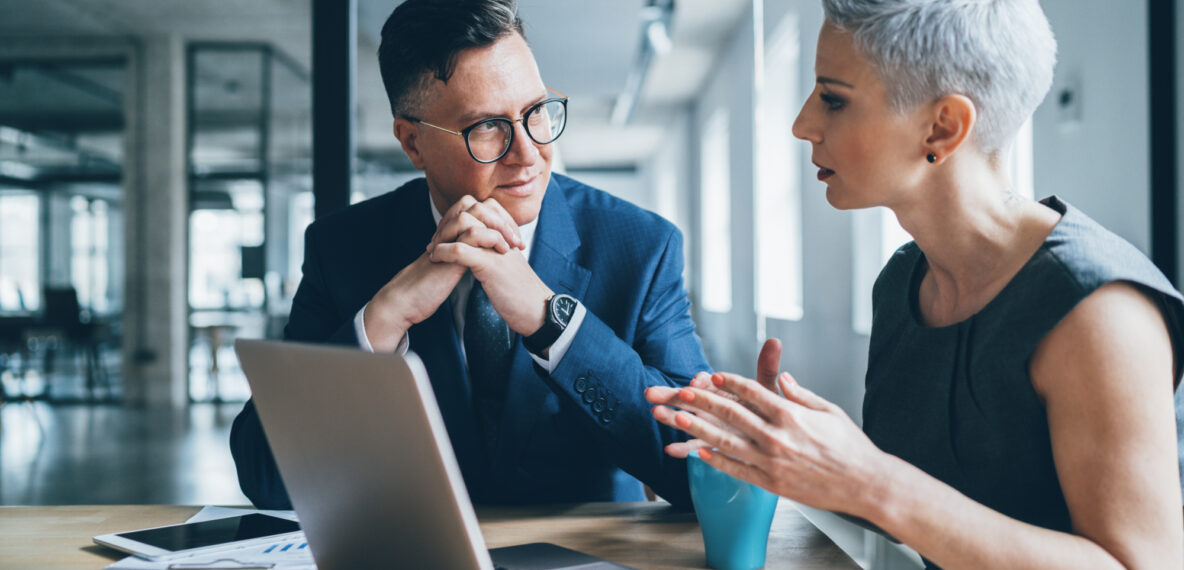 "We drive the implementation process for our clients and do all the heavy lifting so they can focus on other initiatives."—Tricia Simmons, Vice President of Account Services at Onduo
Q&A with Tricia Simmons, Vice President of Account Services at Onduo
When it comes to building a good partnership with our clients, our VP of Account Services, Tricia Simmons, is our in-house expert on what it takes to be successful. While the explosion of digital health tools is exciting, it can create unforeseen workflows for employee benefits teams, especially if you work with multiple point solutions. From onboarding and data exchange to creating engagement communications—things get complicated and fast.
When we think about the future of digital health and transforming care delivery, Onduo has focused its efforts on finding solutions that work for all stakeholders. Tricia shared some tips on how she thinks about working with our clients. Her team has built out a process to support an easy and efficient implementation.
How has Onduo streamlined the implementation and onboarding process?
We have a very seasoned team with decades of experience launching our programs and supporting our clients. Since Onduo began, we've thought about how to make our clients' onboarding journey as easy as possible. We're in a good place now—we strive to be nearly turnkey. We drive the implementation process for our clients and do all the heavy lifting so they can focus on other initiatives. Every client is assigned an account director to support them through implementation and beyond. We ask for eligibility and claims files so that we can identify the right people for our programs, and we work together to configure our best-in-class member outreach materials.
Do you see this making a big difference for your clients?
Finding a partner to support the health of employees living with chronic conditions isn't easy—especially as you're trying to tackle your return-to-office plans. I've heard from many of our clients that the ease of our implementation process frees them up to focus on other initiatives that deliver value to their members. We all like results.
One of the most valuable aspects of Onduo's implementation process is the bi-directional training. We will train all stakeholders such as the benefits teams, health advocates, care management teams, or well-being ambassadors on the member experience at Onduo. This training allows our clients to effectively engage with and respond to your employees, and your team trains Onduo on your culture, brand language, goals, etc. We can use these learnings to adapt our member communications and better engage your employees at all stages of their journey to healthy. We have a brilliant member engagement team that helps with that!
Why do you offer risk-based payment arrangements?*
We're that confident in the success of our solutions. We work closely with partners to co-develop our strategies for recruiting and engaging your employee members. We know we can identify the right employees for our virtual care programs, get them to engage and enroll, and then deliver care that meets them where they are—emotionally, physically, and geographically. These are all critical for digital health adoption and long-term utilization, which allows you to maximize your return on investment.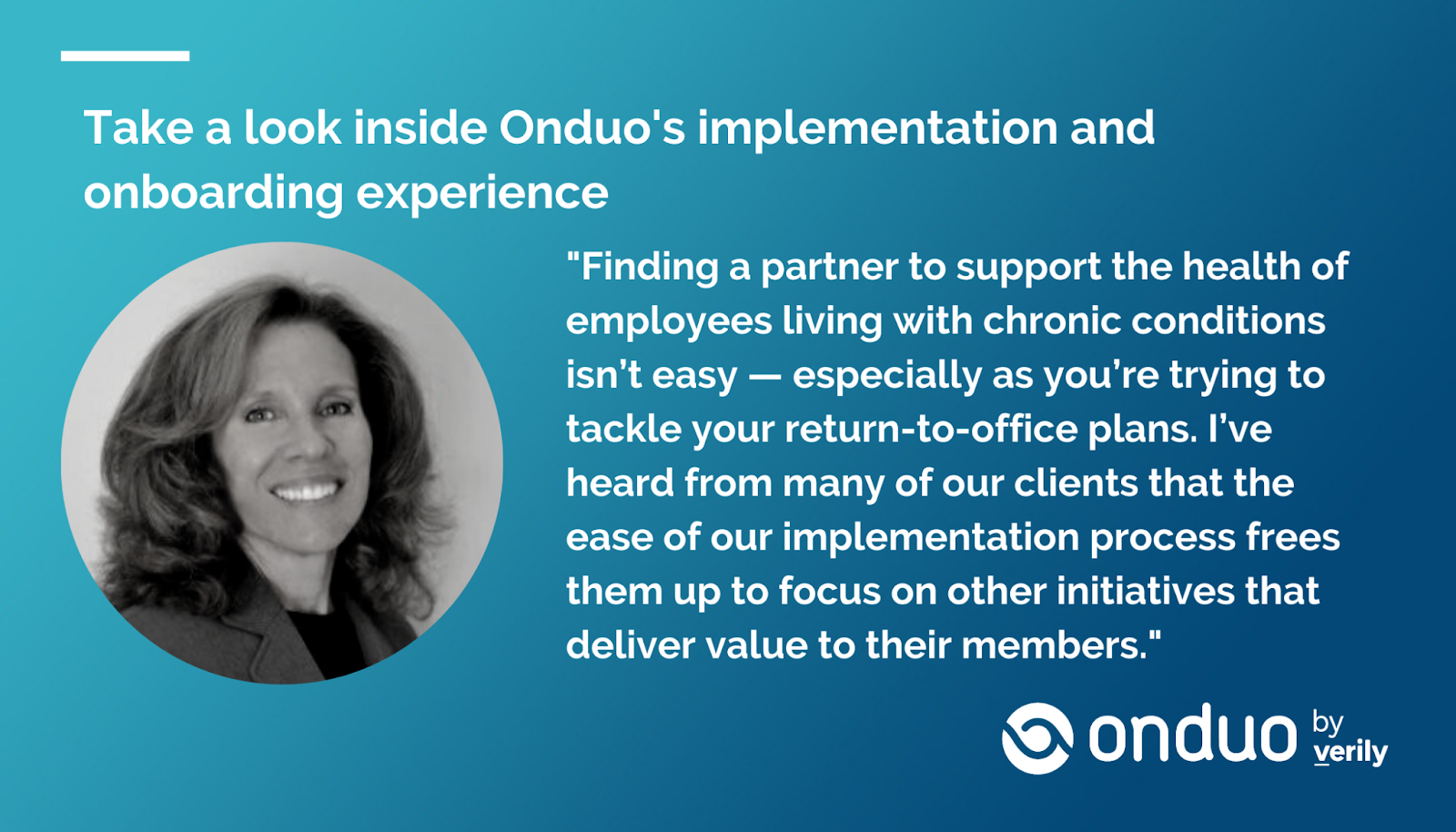 What excites you most about Onduo?
I love the fact that Onduo provides what I call "white glove" care. Everyone who touches a member is invested in helping them on their personal journey. The coaches are looking for ways to drive intrinsic motivation, the diabetes educators are passionate about helping each member understand how medications work and why it's so important to take them as prescribed, and our physicians treat the whole person, not just for the 20 minutes they are having a telemedicine visit, but for days or weeks after to be sure the member is engaged in the treatment plan. Onduo helps members find intrinsic motivation. By co-creating goals based on clinical status and personal preferences, Onduo' programs can really hone in on the most impactful next best step for each individual.
I'm excited by the results I've seen. It makes my job rewarding when we are helping people all over the country and we're seeing life-changing results:
Members using the Onduo diabetes program have averaged:
1.2% overall decrease in A1C1
3.3% A1C reduction in high-risk members using Onduo with a continuous glucose monitoring (CGM) system2
13mmHg average reduction in systolic blood pressure3
10.9 pounds average weight loss4
78 Net Promoter Score1
Tricia, as it pertains to the implementation experience, what's the key takeaway for our readers?

We've made it easy to work with Onduo and deliver a solution that both meets the needs of your team and delivers the results you want.
To learn more about Onduo or our easy implementation process, reach out by emailing partners@onduo.com and let's talk. Onward together!
Tricia Simmons is the Vice President of Account Services at Onduo. She brings 20 years of experience in health and wellness strategic planning, sales support, client services, operations management, and direct care. She is dedicated to using the evolving sciences of nutrition and behavior change to make a difference for individuals, corporations, and communities. Tricia is a Registered Dietitian Nutritionist (RDN) and has a Masters in Nutrition from Harvard's School of Public Health. She spent her undergraduate years in Maine at Bowdoin College, where she obtained her B.S. in biochemistry. In addition, Tricia completed a fellowship in counseling at the University of Washington. In her free time, she enjoys rock climbing, long-distance road biking, and baking via Facetime with her daughter who lives across the country.
1 Data on file, October 2020

2 Layne JE et al. Diabetes 2020 Jun; 69 (S1)

3 Based on enrollees with stage 2 uncontrolled hypertension who completed Onduo's pilot. Data on file. Dec 2020.
4 Data on file. Dec 2020.

*Actual client maximum annual cost guarantees subject to: data availability, statistically significant sample sizes, and individual client underwriting and qualifications.