A Look Inside Onduo's Value-Led Approach to Pricing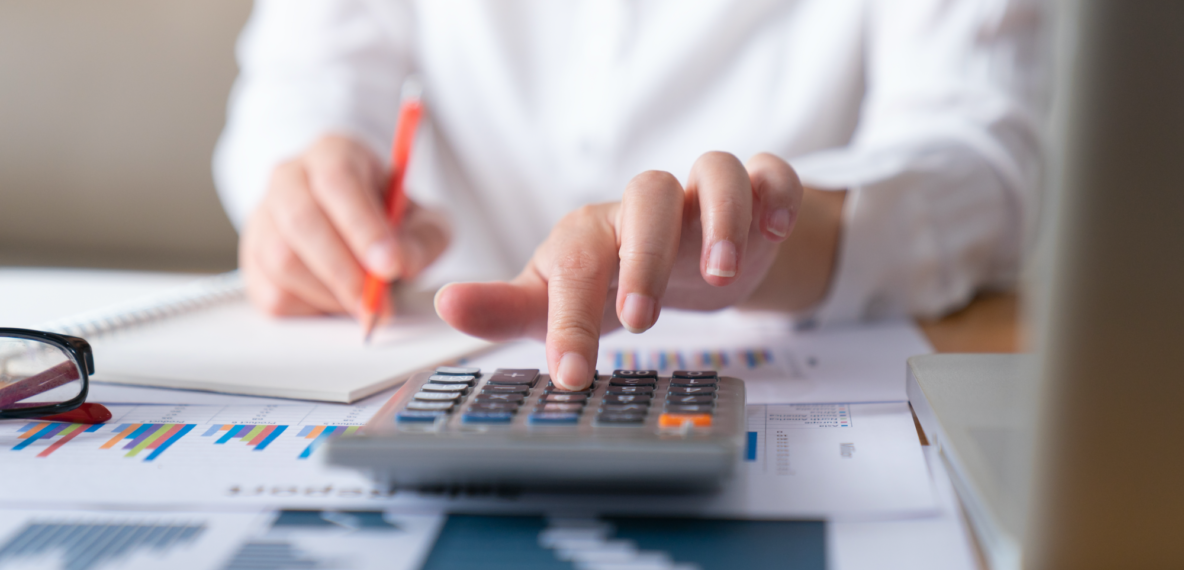 "With Onduo, you have one vendor contract to cover multiple disease states and populations. It's just easier to work with Onduo." — Craig Hankins, Head of Growth Strategy and Sales Operations at Onduo
The churn is real. So many of our clients have discussed frustration with the revolving door of services for their employees. For any population health solution, you need to know you'll have a financial return—digital health tools can be costly. One way we've thought about fairness in our pricing is to offer performance guarantees. Why not know ahead of time that you'll get what you pay for?!
With Onduo's expansion into multiple conditions, we needed to think about the smartest way to offer price guarantees as well as bundled services. Craig Hankins, our strategic lead and mastermind behind our modeling, joins us for a Q&A to discuss how we built our one-stop-shop pricing model—and why we're confident our value-based approach will work for Onduo and our clients.
Now that Onduo's a multi-condition platform, how did that change your approach to pricing?
Pricing is complicated. We know from our clients that evaluating options can be a lot of work. We've tried to simplify things as much as possible. We've figured out how to bundle costs with add-on services so we can offer value to our clients across their populations. It's a win-win, because we can say to our clients: give us all your people, and we'll figure out the best program(s) for each of them, how to best reduce your healthcare costs, and most importantly, how to support all of your employees/members in taking the next best steps to get healthy.

What problems in the market are you responding to?
Estimating potential costs is a priority for all payers—they want to know they will get what they're paying for. We've had success with our program, and we now have longitudinal data supporting our ability to help members sustain long-term goals and improved outcomes. On top of that, our predictive AI is best in class—we have the ability to segment and sort large populations to identify the most impactful next step for each individual. We know we can identify the right employees for our virtual care programs, get them to engage and enroll, and then deliver care that meets them where they are—emotionally, physically, and geographically.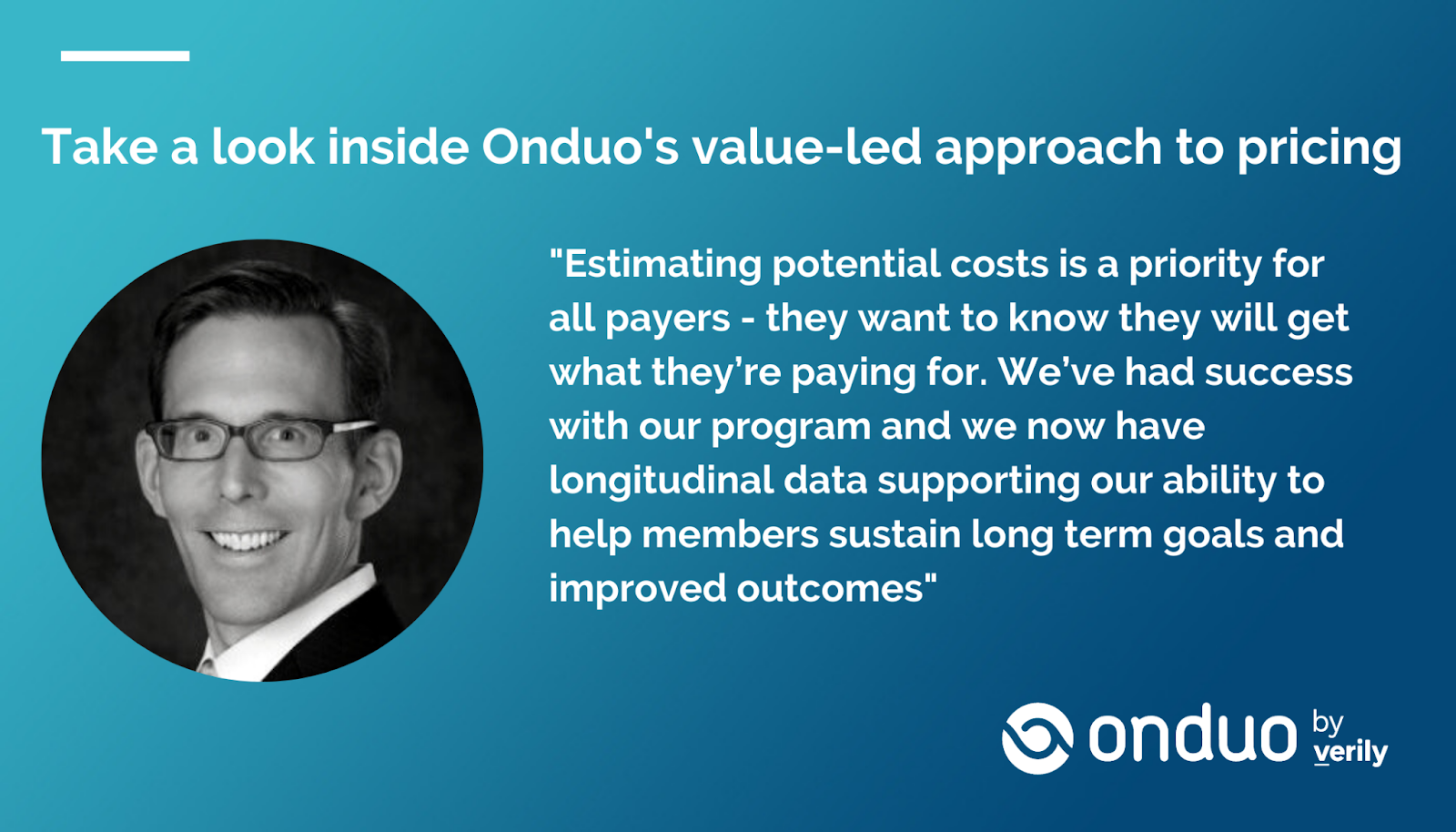 Onduo has achieved impactful clinical outcomes:
1.2% average HbA1C reduction in members with baseline A1C>8.0%1
13 mmHg reduction in blood pressure2
10.9 lbs average weight loss3
And the results last—with demonstrated improvements in member A1C at both six months and one year.4
When we have the data to support successful, improved outcomes, it's easy to offer value-based pricing. We're comfortable making performance guarantees because we're confident in the success of our solutions, and our ability to help clients maximize their return on investment:
Up to 100% fees at risk for member satisfaction and outcomes for type 2 diabetes, hypertension, and weight loss*
Additionally, our ability to adapt care needs across multiple conditions is important, because managing multiple point solution vendors is difficult. With Onduo, you have one vendor contract to cover multiple disease states and populations. It's just easier to work with Onduo. Our bundled services include:
Monthly flat fees

All services and devices, such as a blood glucose meter or blood pressure cuff*

Medical claims or invoice billing

Savings for comorbid services
So if, say, a worldwide pandemic hits, and your type 2 diabetes or hypertensive patients now need mental and behavioral health (MBH) support because they've scored poorly on the PHQ-9 (a standard assessment tool), you can elect to add the MBH program and begin to address their depression, and any savings for using multiple comorbid solutions will be returned to the client.
We also have the option of medical claims billing, which some clients find easier. Medical claims billing for full chronic disease care services can include:

Mobile app

Remote monitoring

Chronic disease services and coaching

Telemedicine consults with Onduo physicians through our virtual clinic as needed

Medication management and optimization

Welcome kits, including connected devices

Training on using connected devices

Additional devices as determined by Onduo clinical staff, which may include Dexcom continuous glucose monitoring (CGM) systems

Additional supplies, including test strips, lancets, and adhesives
Why Onduo? Why now?
The pandemic has really opened our eyes to the gaps in our healthcare system. What's exciting about Onduo today is now that we can support multiple conditions—we more substantially fill those gaps in care and reach those in need. The Onduo vision has always been to shift from reactive care to proactive care and I think the pricing model supports this goal. We want to be part of the solution with you to help get and keep your people healthy.
We are at a new point in the development of digital health services, and by adding in our virtual care approach along with devices and access to care teams, Onduo is leveraging the best of telehealth to drive better health. Onward together!

To learn more about Onduo or our value-led approach, reach out by emailing partners@onduo.com and let's talk. Onward together!

Craig Hankins leads growth strategy and sales operations for Onduo. Previously, as Vice President of Digital Products at UnitedHealthcare, Mr. Hankins led the strategy and delivery of mobile solutions that helped consumers more easily navigate the health system and improve their well-being including UHC's flagship mobile application with over 1 million users annually. He also advanced consumer innovations while leading UHC's diabetes programs and its consumer-driven health (CDH) product suite. He holds an MBA from New York University's Stern School of Business and a Bachelor of Arts degree from St. Olaf College in Minnesota. He has spoken at numerous national health care and technology conferences and national media, including the International Consumer Electronic Show (CES), MedCity CONVERGE, Employee Benefit News, MobihealthNews, and National Public Radio. He was recognized as an industry thought leader in 2017 by Employee Benefit News.
1 Data on file, October 2020.
2 Based on enrollees with stage 2 uncontrolled hypertension who completed Onduo's pilot. Data on file. Dec 2020.
3 Data on file. Dec 2020. No individual result should be seen as typical; they are not guaranteed results. Individual weight loss results, amount, and time duration will vary.
4 Layne JE et al. Diabetes 2021 Jun; 70(S1).
*Actual client maximum annual cost guarantees subject to: data availability, statistically significant sample sizes, and individual client underwriting and qualifications.