Why employers should care about value-based care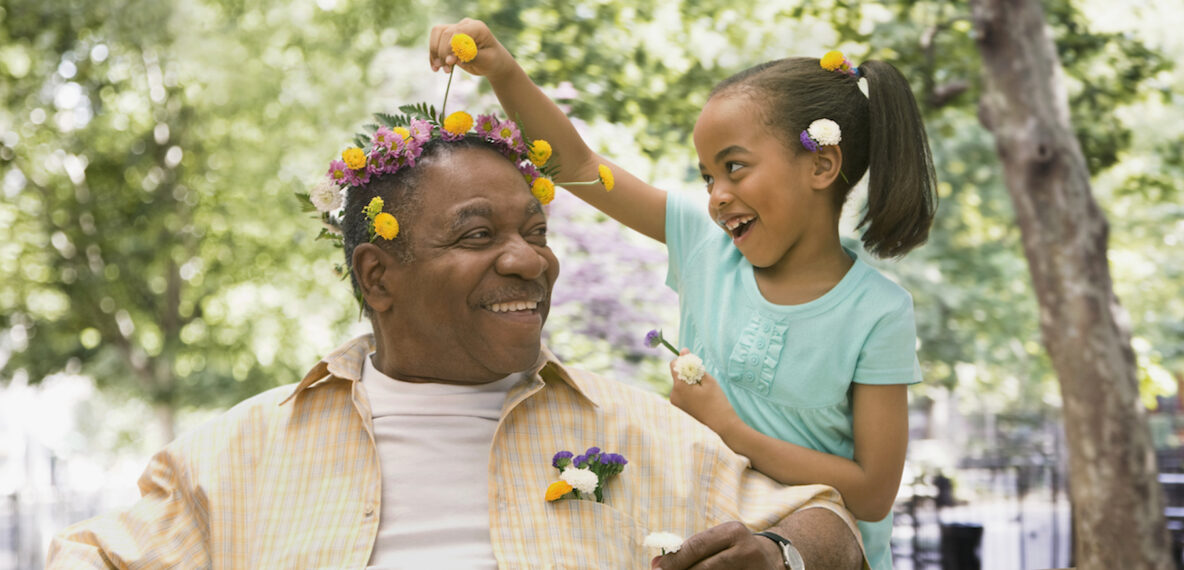 With so many things vying for your attention, value-based care may seem like a topic that can wait or isn't relevant to your business. But, as an organization committed to providing healthcare benefits to your employees, it's important to understand value-based care and its impacts.
With so many things vying for your attention, value-based care may seem like a topic that can wait or isn't relevant to your business. But, as an organization committed to providing healthcare benefits to your employees, it's important to understand value-based care and its impacts.
In the context of your benefits ecosystem, it can help you make progress on major challenges facing your organization, including improving operational efficiency, reducing spending, enhancing cost-effectiveness, and attracting and retaining top talent.
How? Unlike traditional patient care models that focus on office visits and treating symptoms and conditions, and for the employers and health plans that cover the cost of their care and focus on fees for that service, value-based care is centered around the whole person and incentivizes keeping people well and at work. And better presenteeism produces bottom-line impact.
Confronting the costs of poor employee health
According to the Willis Towers Watson 2019 employer survey on best practices in health care, 83% of respondents think enhancing employee wellbeing is important. Only 41%, however, feel they're meeting peoples' needs, and less than one-third (30%) say their programs inspire employees to stay healthy.1
And that can cost you. The CDC estimates that indirect costs of poor employee health—like missed days of work, and reduced output—can be several times greater than direct medical costs. Productivity losses from personal and family health problems cost businesses $1,685 per team member every year.2
Every employer—even those who don't fund health insurance—incur these indirect costs. That may be why 93% of employers in this WTW survey said increasing healthcare affordability and reducing costs for businesses and employees are top priorities.
Creating value for your company and your team
With a shift to value-based, whole-person care, you invest more in strategies and practices that help people stay well, and spend less on tactics that don't.
Value creation starts with personalized care. When the healthcare system treats a person rather than their symptoms, we address important factors that affect health, including individual behaviors, access to transportation, economic resources, family responsibilities, etc. Research indicates these social determinants of health impact 90% of our health status; only 10% is influenced by the direct healthcare we receive.3
Value-based care also contributes positively to business metrics with:
Evidence-based interventions for specific conditions. American employers lose $36.4 billion annually in missed work days from five chronic diseases or risk factors: diabetes, obesity, high blood pressure, smoking, and physical inactivity.4 Improving access to evidence-based interventions, such as digital health tools and coaching, helps employees living with these conditions stay healthier, and it helps employers increase presenteeism and decrease losses.
Mental and behavioral health (MBH) support. The global and domestic events of the last two years brought workforce emotional wellbeing to the forefront. MBH was the top-cited condition (66%) in the WTW survey, with 89% of respondents planning to offer telehealth counseling and 65% improving navigation to services. Beyond supporting team members' resilience and overall health, focusing on emotional wellness establishes you as an empathetic employer—a factor that may influence employees' decision to stay with your company and candidates' desire to want to work there.
Pharmacy cost controls. Employers are investigating ways to control pharmacy costs, particularly related to specialty drugs, according to the WTW survey. Tactics include uncovering unnecessary medications, analyzing outcomes, identifying and promoting low-cost alternatives, improving and optimizing medication plans, and evaluating utilization and costs, especially for specialty drugs. Employers indicated they would address specialty drug costs and utilization.
And because a value-based approach acknowledges the factors impacting each person's health and wellbeing, it helps you address the unique needs of your diverse employee base and mitigate health disparities.
The WTW research found that employers are implementing programs to specifically support BIPOC and LGBTQ+ employees' physical and emotional well-being, and bridge gaps in care they experience. Tangible actions like these can keep turnover low and employer reputation high. For example, a CNBC-Survey Monkey poll found that 87% of Black employees think it's important to work at an organization that prioritizes diversity and inclusion.5

Helping employers address key challenges
Onduo's virtual care platform helps employers like you address the big issues that drive organizational performance and competitiveness.

Personalized care for every employee
Onduo makes it easier to keep every team member healthier with targeted interventions to keep them engaged between office visits. We also support employees living with chronic conditions and risk factors with evidence-based interventions for type 2 diabetes management and prevention, hypertension, mental and behavioral health, and healthy weight management.
Let's look at obesity, which affects a large percentage of your workforce. A study from the University of North Carolina at Chapel Hill's Gillings School of Global Public Health found that only 1 in 8 Americans is achieving optimal metabolic health, which increases the risk of type 2 diabetes, cardiovascular disease, and other serious health issues.
Unlike most weight-loss initiatives that focus on calorie-counting and dieting, Onduo's Healthy Weight program is tailored to each person's risk factors, conditions, nutritional needs, and preferences. These factors inform one-to-one behavior change coaching, and informational content delivered via the app experience. We also use challenges, incentives, and coaching to keep members engaged and on target to achieve their goals. Almost three-quarters of participants (72%) lost weight, and 57% lost an average of 8.5% of their starting weight.6

Emotional well-being
When employees can't access mental and behavioral health services, their needs may become more chronic and symptoms more intense. Onduo's virtual care solution makes managing life's challenges easier for your employees. Available as part of insurers' health plans and employers' employee benefits packages, the program provides on-demand activities and resources for mindfulness, coping, and stress relief; comprehensive support for day-to-day stresses and major life events; and access to virtual visits with a licensed therapist or doctor, as clinically needed.
Emotional wellbeing support is especially important for employees more likely to experience emotional distress, such as:
Anxiety, depression, and isolation, experienced by LGBTQ+ employees7
The different ways violence against and harassment of non-white people (and media/social media about it) impact BIPOC employees' psychological safety and emotional health.8
Loneliness and social isolation in older team members that makes them more likely to develop depression and/or anxiety, commit suicide, or die prematurely.9

Optimize medications
The CDC estimates that 82% of U.S. adults take at least one medication, and 29% take five or more. Improper use sends about 1.3 million Americans to the emergency room, generating $3.5 billion in excess medical costs -- more than 40% of which is potentially avoidable.10 And then there's the fact that "at least 28% of antibiotics prescribed in the outpatient setting are unnecessary".11 Better medication management is a vital tool to lower pharmacy costs for you and your employees.
Onduo's medication optimization methodology can help reduce risk, reduce cost, and address barriers to compliance. Our pharmacy team reviews medications and outcomes to make sure your employees are taking only the right medications at the right dosages, and taking them the right way. When needed, the pharmacist may suggest a formulary-aligned alternative or suggest access using a prescription discount program. This helps identify gaps in care, prevent errors and non-adherence, and help ensure affordability.
For example, we completed a review of 556 members living with type 2 diabetes who received a medication optimization visit, and in this cohort, Onduo's providers suggested 310 total medication changes. The review found that 40% of those with an A1c of >8% reported a >0.5 point improvement in their A1C after their medication optimization visit.12
Realizing the business benefits of value-based care
Focusing on employee health and wellness moves the needle on the business challenges you face every day. Leveraging value-based care drives financial and operational performance while restoring the human connection in business and healthcare.
Download our whitepaper to learn more about how you can capitalize on the business benefits of value-based care.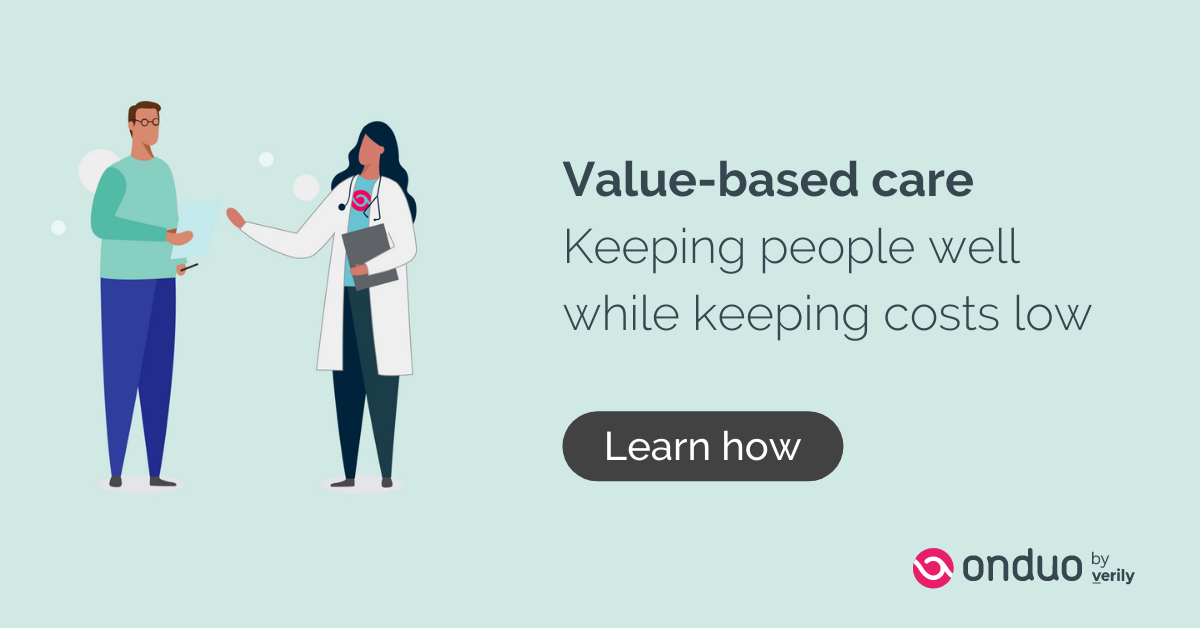 Footnotes