The endocrinologist will see you now. At home.
Connect to our multidisciplinary team to get specialized and individualized care.
PRESS RELEASE: Onduo extends virtual diabetes clinic and network of endocrinologists to continental U.S.
Our Doctors
Dr. David Erani, MD
Endocrinologist

Dr. Erani is a leading diabetes expert, who has worked at world-class institutions. He's passionate about developing patient-centric guidelines to improve quality of care.

Dr. Ronald Dixon, MD
Head of Clinical Affairs

Dr. Dixon is an innovator and a pioneer of best practices for relationship-based virtual care. He has dedicated his career to directing the development of solutions for population health and chronic disease management.

Dr. Neeli Singh, MD
Endocrinologist

Dr. Singh is a patient champion who brings her warmth, knowledge, and 10 years of expertise to the clinic. Throughout her career, she has worked on building innovative virtual care models to improve access to care.
Welcome to Our Clinic
Our program works because our people care.
Endocrinologists*

Our endocrinologists understand every person is unique and we want you to get the right level of care.

We review your record and can be available to meet with you via video
We adjust or prescribe medications (if needed)
We can prescribe specialized devices like CGMs that can help you reach new levels of wellness
We will collaborate with your physician

*Onduo's board-certified endocrinologists are fully licensed in 49 states and employed by Onduo Professionals P.C.

Certified Diabetes Educators (CDEs)

Our CDEs are trained health professionals who have deep knowledge about every stage of diabetes. We've heard and nearly seen it all—and we can help. We're here to help address your unique lifestyle needs so you can achieve your individual goals.

Coaches and Specialists

Stay on track and find balance with support from our team of coaches and care specialists. We offer simple substitutions and tips to help you eat the foods you love, meet your health goals, and stay motivated along the way.
We've seen patients with some of the most complex cases of type 2 diabetes experience life-changing results because we put the relationship with the patient at the forefront of our work.
By The Numbers
Most people with Type 2 Diabetes see their PCP per year on average:
17-24min
Estimated shortage of endocrinologist in the workforce
1,500
People who live 20+ miles from an endocrinologist
1 in 2
Frequency of CGM readings (prescribed for some via clinic)
Every 5 min
Onduo CGM wearers* who reported improvement in self care behaviors
95%
Accessible across the United States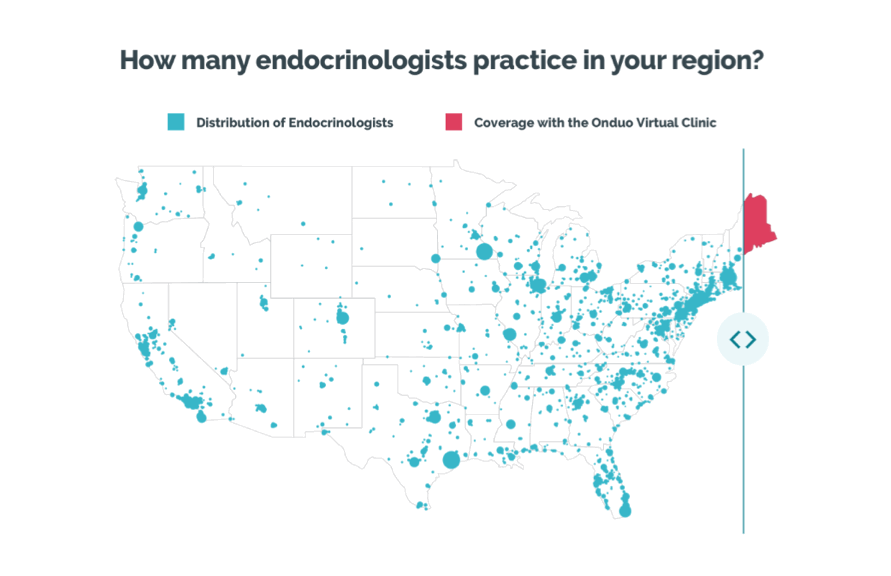 Read about Onduo's clinical outcomes in JDST